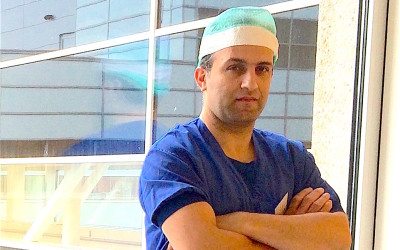 Mr Abdullah Jibawi (AJ)
MB BCh MS AVS FRCS DM
Consultant Vascular, Endovascular, and General Surgeon
Doctorate in Vascular Surgery – Oxford, Sussex and Brighton Universities
Mr Jibawi is a specialist Consultant vascular surgeon with an interest in diabetic foot diseases, endovascular and aortic surgery, and in advanced varicose vein treatments.

Mr Jibawi grew up in the city of Damascus, Syria, and received his medical degree from the University of Damascus, with distinctions in physiology and anatomy. He undertook general and laparoscopic surgical training at Damascus University teaching hospitals, where he was trained on emergency, trauma and laparoscopic surgery. He received a Masters degree in surgery, then joined UK training in General and vascular surgery.

Mr Jibawi completed a structured SpR surgical training in the East Midlands Deanery (University of Leicester), with additional training within All Wales Deanery and Kent, Surrey and Sussex (KSS) Deaneries. This was followed by a two year fellowship in vascular and endovascular surgery at the Royal Free Hospital NHS Foundation Trust and the University College London Hospital. Mr Jibawi received his FRCS (General/Vascular) in 2013.

Under the mentorship of Prof Ross Naylor (a world renowned vascular surgeon in carotid surgery), Prof George Hamilton (a world renowned vascular surgeon in rare vascular diseases), and Prof Krassi Ivancev (a world renowned endovascular specialist in complex aortic aneurysm repairs), Mr Jibawi obtained his Specialist License from the General Medical Council (GMC) in the fields of vascular diseases, aortic surgery and endovascular surgery in the United Kingdom. Mr Jibawi commenced his vascular surgical practice as a Consultant Vascular Surgeon at Ashford and St Peter's Hospitals NHS Foundation Trust in Oct 2013.

Mr Jibawi was awarded a Doctorate Degree (D.M) for his academic work on developing better methods in improving outcome in vascular surgery, a joint work between University of Brighton, Sussex and Oxford, and authored a book 'Current surgical guidelines' published by Oxford University Press in 2010, which was featured in the British Journal of Surgery, and now in preparation for the 2nd edition.

Oxford handbook Current Surgical Guidelines is a comprehensive evidence-based summary of guidelines, presented concisely and supported by hundreds of tables and algorithms. Featured in the BJS. February 2011. 2nd edition  is in press.

Mr Jibawi enjoys fine art, poet writing, and a variety of sport activities (football, martial art, etc.) on a weekly basis.
CLINICAL PRACTICE 
One Stop Artery and Vein Clinics (OS-AVCs) – Assessment, Imaging, and Treatment plan .. all in one visit! 

Aortic Aneurysms Repair – Endovascular & open

(>12 yrs of experience in major vascular centres – Leicester, Brighton, and Royal Free London)

Varicose Veins Treatment – open, endothermal & Foam treatment

(>450 cases of treating standard and complex anatomy varicose veins).

Leg ulcers & advanced wound management

Claudication, critical ischaemic & gangrenous foot management.

Diabetic foot management (SPECIALIST CLINIC) 

lymphoedema management (SPECIALIST CLINIC) 

Emergency surgery, hernia repair (lap and open), and skin grafts.

Medico-legal Informatics Advisor in clinical practice